OneHash has been in existence since 2014 and is a mutual bitcoin gaming exchange giving sports fans the opportunity to wager on their favourite competitions by joining a pool, as opposed to betting against the house.
OneHash  Review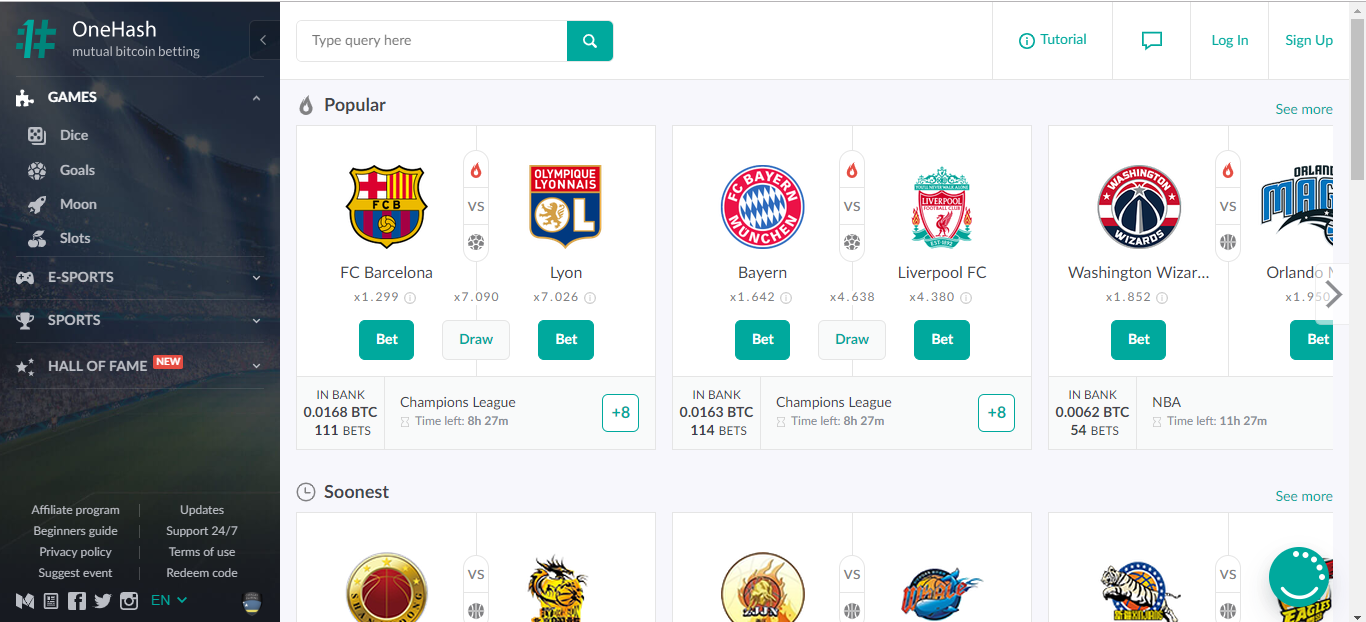 One Hash (Website Link) is operated by Block Chain Entertainment BV, who are licensed in Curacao. It has been gradually increasing its markets and competitions over the last few years, and updates take place on a regular basis. Users can access information on these updates via the main site.
Unsurprisingly, it has grown in popularity over the last couple of years, and with cryptocurrency enjoying a recent upturn, it's proved be a very attractive way of betting for those who enjoy football, basketball, baseball and eSports.
It is a mutual betting system in which players bet against one another, similar to Betfair Exchange. One Hash will take a small percentage of the pool, and the remaining dividends are split between the winners. Returns will depend on the amount of interest in any given selection. If you've backed the outsider, you'll receive a greater amount of bitcoins then supporting the odds-on favourite.
The website design is simple, and the whole concept revolves around simplicity. There are no flashy graphics or adverts which pop up unannounced, it's all very straightforward and stripped back compared to many of its bitcoin-accepting rivals.
Newcomers may wish to spend a few minutes getting to grips with the website, although it won't take long to explore all of the different sections. There is a helpful 'Beginners Guide' section on the main site, which is easily accessible from the home page. This helps explain the basic concept, and goes into more detail about how the betting pools are monitored and distributed.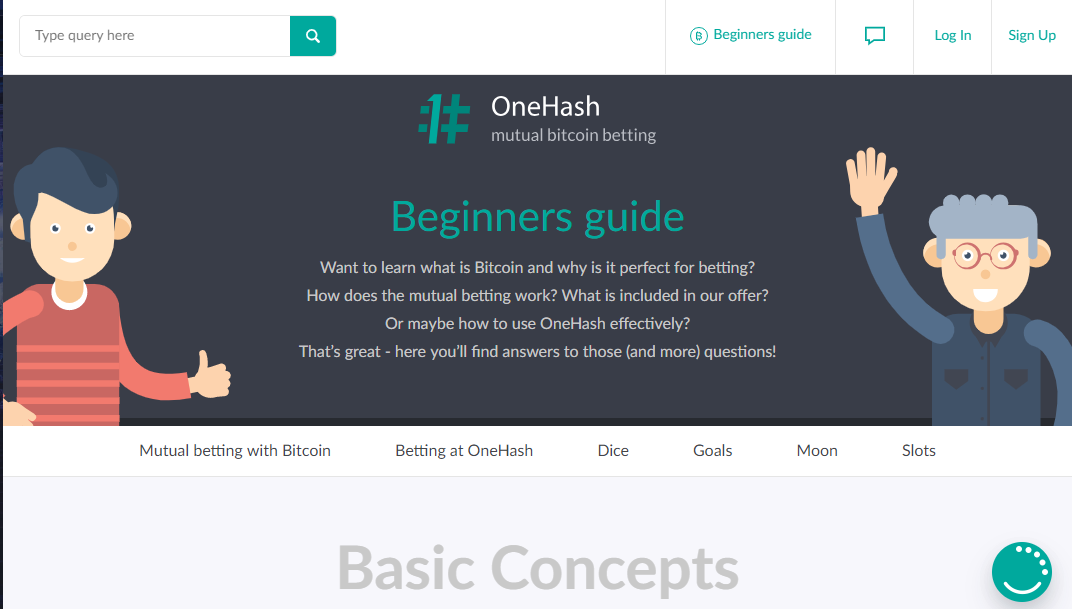 With the returns not dictated by the bookmaker, it helps add an element of fairness to the whole process, and this has helped attract a great number of players to One Hash.
Signing Up
One of the best features of One Hash is the registration process, which is very fast and simple. There is an element of anonymity in Bitcoin …  read more about Signing Up.
Bonuses
One Hash is not inclined to shout about its bonuses on its main site, but players who invite friends can get a huge benefit from a 50% commission. As soon as a friend uses the correct code, he will be immediately credited to the player's account … read more about Bonus and Promotions.
Making a Deposit and Placing a Bet
Being a Bitcoin operators allows One Hash to accept just one payment method, and they are unlikely to alter their stance anytime soon. This is ideal for those who possess cryptocurrency, and accounts will be funded immediately. Payouts are also reportedly extremely quick … read more about Making a Deposit.
Sports and Markets

One Hash make it extremely simple to access the different markets on their site. All of the sports are listed down the left-hand side of the home page, with football currently proving to be the most popular.
All of the major matches from the top divisions and high-profile competitions are available with betting available on the Champions League, Premier League and Ligue 1. Basketball is also incredibly popular with One Hash users, and every NBA games is available throughout the course of the season.
Other sports listed on the site include Tennis, Motor Sports, Baseball, Rugby and Combat Sports. It is straightforward to move between the sub-categories on the site, with each sport producing a drop down menu of available matches at the time of visiting.
eSports has enjoyed a remarkable rise in popularity over the last couple of years, and there is now a huge range of contests available on the One Hash website. Many of these will be priced up days in advance.
Users can also enjoy the benefit of special events with football transfers and manager markets regularly available on the site. Whilst the occasional TV/Film special will also be added to the main page. Recent examples include Game of Thrones and the Oscars.
Although One Hash don't offer the sheer breadth of markets available with traditional online sportsbooks, there is still plenty to enjoy here. All major events will be available throughout the year.
Games
As well as the traditional betting markets, One Hash also offer an array of different games for users to enjoy.
Dice is the most popular game on the website, and is inherently a game of chance. Players can simply choose to wager 0, and follow the outcome of a few rolls before opting to use their own funds on this game. Goals is the opportunity to beat the goalkeeper. The more you score, the more you win! Moon is an exciting offering in which players must fly as high as possible before being destroyed. Big prizes are available on each of these games.
There is also a slots machine game available, which is extremely popular with One Hash users.
In Play Betting
Unfortunately, with One Hash operating on a pools based system, there is currently no in-play betting available. All pools are closed prior to kick-off.
Customer Support
There is a special page that deals with questions and conundrums. The easiest way is to send an email, and, as a rule, it is answered as soon as possible. read more about Customer Support
Mobile Betting
There is currently no downloadable app available for One Hash users, but they do offer a mobile platform for users who wish wager on the move.
The webpage is supported on all devices, and it is equally as stripped back and minimal as the desktop site. This makes placing bets on the move incredibly simple, and players can also sign up for an account on the smaller screen.
The same great range of markets are all still available for mobile users, who aren't penalised in any way for accessing One Hash via their smartphones.
Conclusion
It's difficult to compare One Hash to any of its competitors as it currently offers something very different to the majority of bitcoin bookmakers.
It is a completely unique approach which mirrors online betting exchanges, but has been set up in a very efficient and slick manor. The site works effectively, navigation is incredibly straightforward, and the customer support is always on hand to resolve any issues.
If you like any of the popular sports, there are plenty of markets to keep customers happy, but perhaps a greater range of offerings could be added going forward.
Payouts are generally very speedy, and the anonymity of signing up for an account is understandably appealing for many punters.
If you have cryptocurrency, and you fancy spending your BTC on sports wagering, this is the ideal site. You aren't betting against the house, you are taking on fellow bettors, and this is the ideal platform for competitive sports fans.