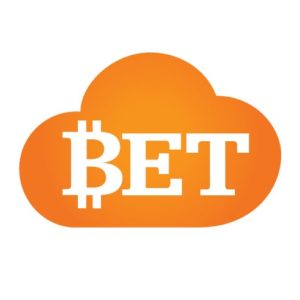 Cloud Bet launched in 2013 and immediately cornered the market for cryptocurrency-accepting online bookmakers. Many other Bitcoin-only operators have followed in their footsteps, but very few of them can boast a customer base as significant as Cloud Bet.
CloudBet Review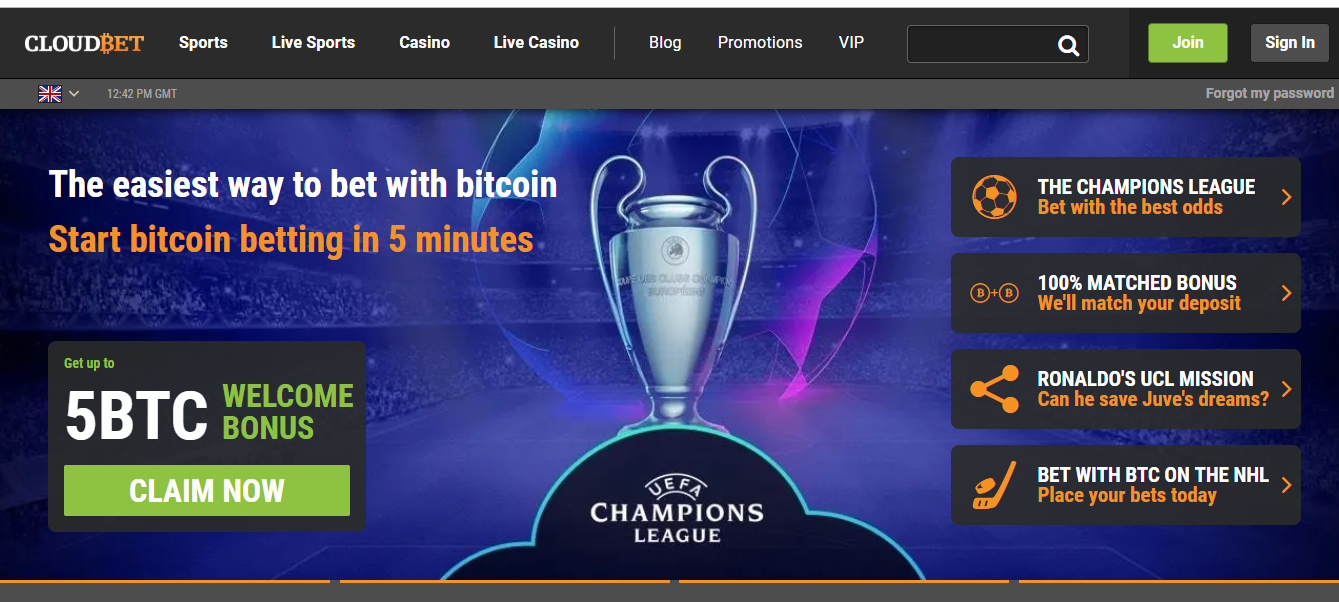 CloudBet (Website Link)  launched in 2013 and immediately cornered the market for cryptocurrency-accepting online bookmakers. Many other Bitcoin-only operators have followed in their footsteps, but very few of them can boast a customer base as significant as Cloud Bet.
It has been steadily gaining customers all over the world, as Bitcoin users look for somewhere to wager their cryptocurrency and player satisfaction is at an all-time high.
It has become a very recognisable brand, and continues to be a trail blazer for Bitcoin-only online bookmaking. It hold its license in Curacao and can also boast a full Vegas-style online casino which sits happily alongside their comprehensive sportsbook.
Cloud Bet have put plenty of thought into their design, and their website is extremely slick and easy-on-the-eye. It is clean, tidy, uncluttered and looks exceptionally professional. Their interface is similar to many establish betting providers and they have the market depth to rival the majority of them.
There have been numerous favourable reports surrounding their customer service, and many players remain hugely satisfied with their product. At the time of writing, they are supported in seven different languages, and their sportsbook is currently available in a large number of countries around the world.
Signing Up for an Account in CloudBet
Since the site is intended for bitcoins, there is no need for a large amount of personal data. … Read more about Signing Up
CloudBet – Making a Deposit
Unsurprisingly, bitcoin is the prevailing currency used by Cloud Bet customers. Players will be asked to choose deposit options when they sign-up for an account and these are the only two options available … Read more about Making a Deposit
Welcome Bonus and Promotions in CloudBet
Not all Bitcoin operators offer welcome bonuses for new customers who register an account, but Cloud Bet encourages those players who have registered an account.
This is an extremely generous offer and can be claimed by all new players. The larger the initial deposit, the more you can take advantage of this incentive … Read more about Welcome Bonus and Promotions
CloudBet – Sports Betting Markets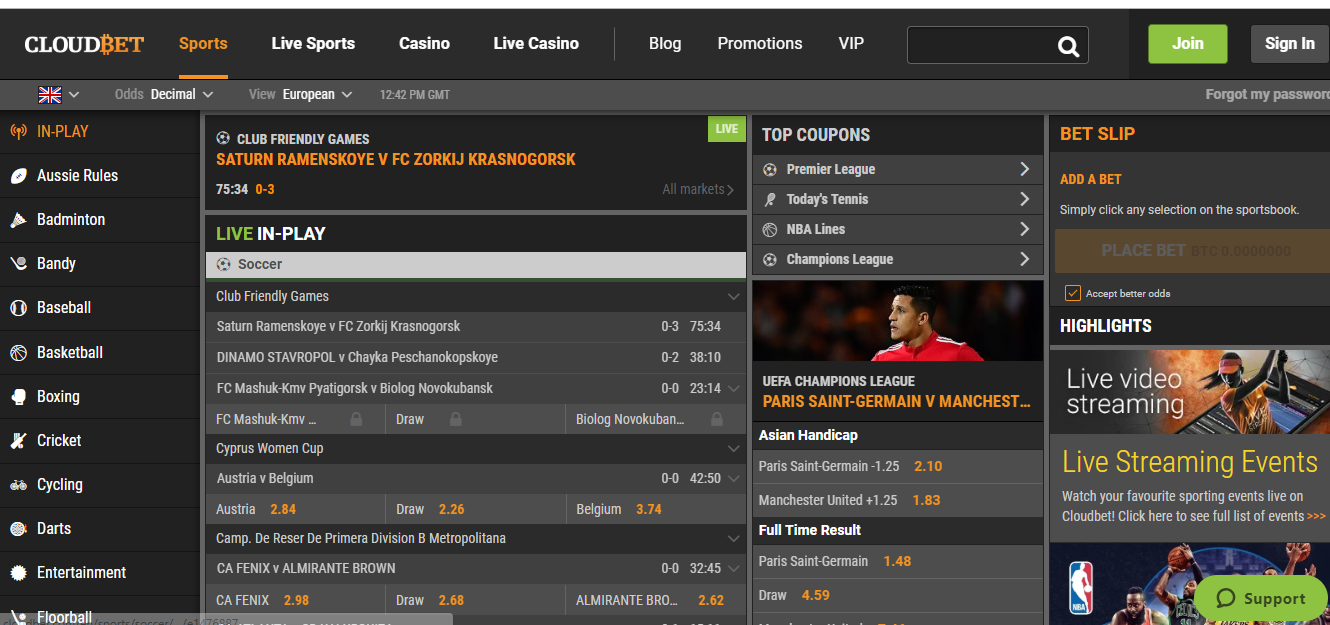 There is a significant range of different markets and competitions available on the Cloud Bet sportsbook. Some people wrongly assume that bitcoin-only operators will have a distinct lack ofbetting options, but this is simply not true.
US sports are particularly prominent with NBA, NFL and NHL dominating during the regular season and throughout the play-off periods. Soccer also plays a significant role and Champions League nights will often result in the sport being prominently place on the home page.
All of the available sports are listed down the left-hand side of the home screen which makes it easy to find the desired markets in seconds. Relatively obscure offerings such as Bandy, Badminton and Floorball are all available throughout the year. Many of these are restricted to International markets only.
There are a range of entertainment markets also listed on the website. The Eurovision Song Contest and other International TV shows are usually found in this section.
There are over 100 different markets available on the majority of contests including Asian handicap markets. These are very popular with punters, and are usually found towards the top of the match page. Markets are also split into different quarters, halves and there are a number of options when it comes to player performance.
The odds aren't particularly stand-out, but they are competitive. Player won't lose value by using Cloud Bet, but they won't find the best price on the market either. It is middle-of-the-road when it comes to value, however the quality of the overall product tends to outweigh this.
Overall, there is a healthy range of markets and competitions available at Cloud Bet, and the odds are usually available days in advance. It is ideal for sports fan, who wish to have a wide range of betting options for each event.
With minimum bets starting at 0.001 BTC, it is also ideal for those who are looking to place a number of small wagers throughout the week.
Customer Support CloudBet
Customer support is an area in which Cloud Bet excel, and they have a detailed FAQ page which should help players find a solution to their problems. These queries usually relate to making a deposit, claiming … Read more about Customer Support
Live Betting / Betting In Play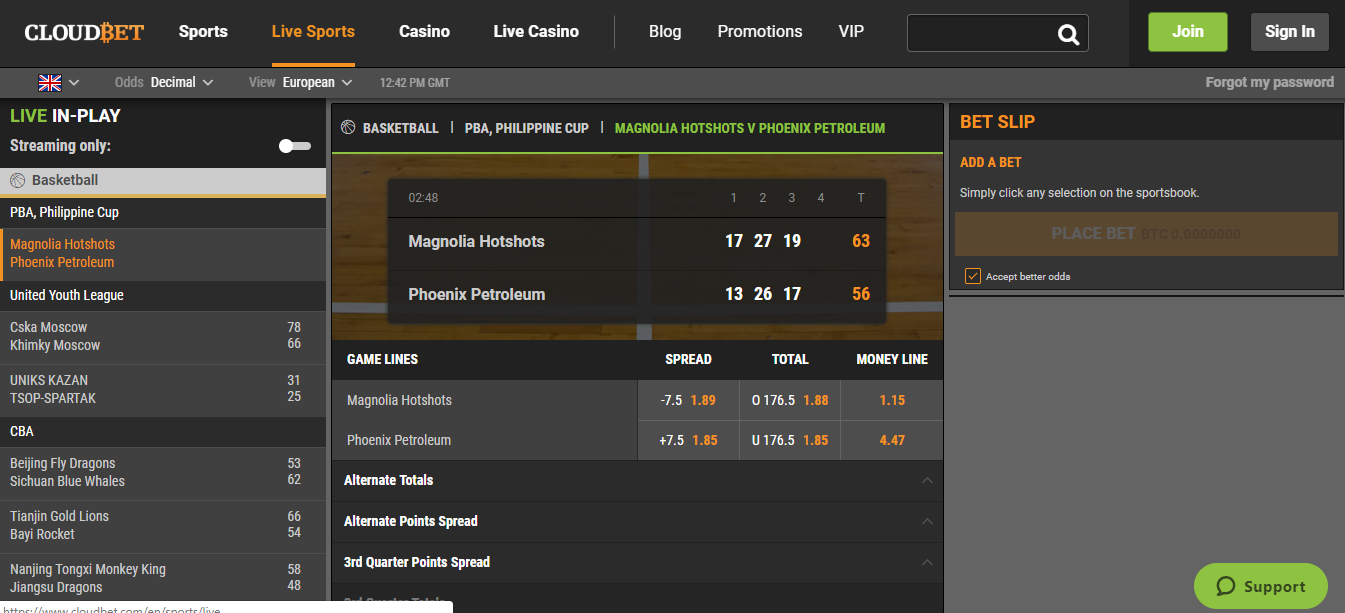 The live sports section can be located along the top of the home page. Clicking this will direct players to an extensive list of ongoing events.
The In-Play section features many different sports with tennis, basketball, volleyball and soccer amongst others. Players can browse the different markets and easily flit between these events.
There are a number of different lines available for each event and the scoreboard in the centre of the page will offer some statistics to help bettors make the best betting decisions.
The interface is very easy to navigate, and it looks both slick and professional.
In-Play bettors will have to be quick to take advantage of these markets as the prices will fluctuate throughout. Spread, Totals, Money Line and Alternative Points Spread all feature heavily on the live in-play betting section.
Occasionally, there will be no markets available for some in-play events, which can be deeply frustrating. However, this is usually due to a break in-play or the match being close to a conclusion.
Mobile Betting
The mobile betting site is compatible with IoS, Android and Windows phones and is easy to download from the majority of app stores.
The app makes it straightforward to log into your existing Cloud Bet account and wager on the move. All of the same in-play markets are available and there are a huge number of betting options listed on the mobile site.
The quality of the interface remains, and although players are using a smaller screen, Cloud Bet still offers a high-quality product for their loyal customers.
New players can also sign-up for an account using the mobile app and claim the welcome bonus of up to 5 BTC.
CloudBet – Conclusion
Cloud Bet is one of the most recognisable names when it comes to Bitcoin wagering, and they continue to blaze a trail. They offer a high-quality product which is reminiscent of the sportsbooks offered by more powerful and well-known competitors.
Their generous welcome bonus is one of the major incentives for customers to sign-up, and anyone who has crypto-currency to spend will be well-catered for at Cloud Bet.
They have a huge range of betting markets available, with US Sports and Soccer tending to dominate. However, there is a lack of depth about other areas and more niche sports. There are also no horse or greyhound racing options currently listed on the site.
In-Play bettors can enjoy a huge variety of markets and there are lots of options for those who enjoy taking advantage of Asian handicap options.
Overall, Cloud Bet is able to rival more traditional bookmakers with its current offering, and those who fancy something different could do a lot worse than signing up for an account.
Many happy customers continue to return to the sportsbook and place weekly wagers on their favourite events. The VIP program rewards those players who regularly deposit and bet big, and it's a sportsbook which continues to go from strength to strength.