Pinnacle is largely considered to be one of the top online bookmakers for those who regularly place bets using larger-than-average stakes. It is a renowned for being a premium operator and they tend to keep their odds and lines extremely competitive which encourages significant-sized wagers to be struck on a regular basis.
Pinnacle Review
Pinnacle (Website Link) aim to keep it simple and they provide the perfect platform for those who looking for a sports bet. There is an exclusive feel about this online bookmaker and they are often favoured by those who are no longer allowed to wager with traditional online bookmakers.
Pinnacle was founded in 1998 and was previously known as 'Pinnacle Sports'. It originated in Curacao and the HQ remains on the Caribbean Island to this day. Their operation now stretches across 100 different countries and it is looking to expand further in the near future. It can also boast offices in London and Malta and despite numerous competitors mirroring Pinnacle's operation, they have managed to retain the majority of their fiercely loyal customer base.
Pinnacle's USP is their best odds and generous pay-outs. They have always had a reputation for being one of the most reliable operators when it comes to distributing winnings and they have continued to lead the way in this sphere.
They are fully licensed by the Government of the Netherlands Antilles and it also possesses a Maltese Gaming License as well.
Welcome Offer and Bonus
Pinnacle-Sport isn't a traditional bookmaker and therefore it doesn't rely upon sign-up bonuses to attract new customers. Those who join the service won't be … read more Pinnacle Bonuses
Signing Up
Signing-up is relatively simple and Pinnacle make the process incredibly straightforward for … Read more about Signup process in Pinnacle
Making a Deposit
New Pinnacle customers can make a deposit once they've signed up and once again, the process is extremely straightforward.
Users can go to their account options in order to make a deposit at any stage and there are …Read more about Pinnacle Deposit Options
Sports Betting at Pinnacle
Down the left hand side of the home page, there is a comprehensive list of every sport that is currently available on Pinnacle's sportsbook.
These include popular options such as Basketball, Tennis and Soccer and they sit alongside the likes of MMA, Alpine Skiing and eSports. In fact, Pinnacle were the first company to take a bet on eSports and have continued to increase their offering ever since.
There are a number of quick links to popular options at the bottom of the home page with NFL betting, Premier League markets and ATP tour events usually located in this section. This will alter to align with the sporting calendar.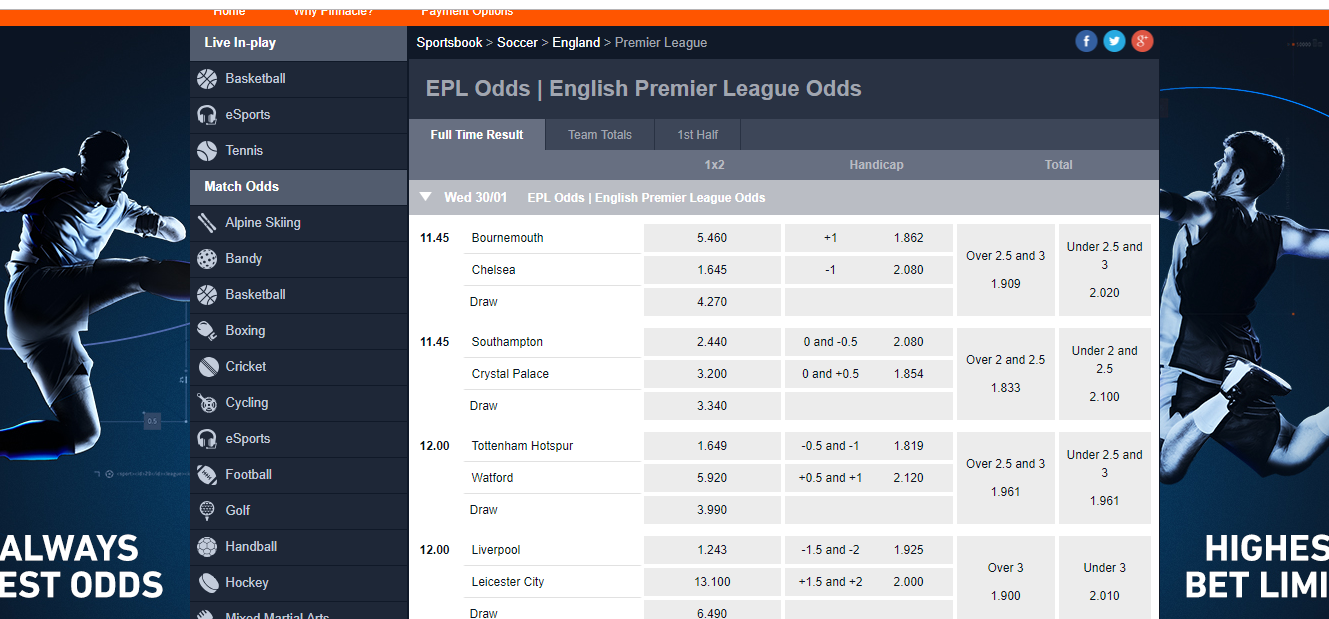 Pinnacle's market coverage is slightly different to standard European bookmakers with a particular focus on Asian Handicap markets, goal lines and money lines. Soccer markets also offer team totals and although there are limited options, they offer key markets and these are extremely popular with bettors.
With Pinnacle's specialising in a set number of markets, they are able to concentrate on providing the best margins and lines on each of these games.
New markets have been added over the last couple of years with Basketball bettors able to specialise in quarter-by-quarter betting and other options also become available once the game goes in-play.
Pinnacle have also added entertainment markets to their offerings and the addition of ITF and Challenger tournaments to the tennis section is a fillip for those who follow the lower-ranked action carefully.
Sadly, horse-racing and greyhound bettors will have to look elsewhere. (Here you can find our rating with Best online Betting companies)
A few more lines wouldn't go amiss and that can be viewed as a slight negative. For those hoping for goal-scorer options and other specialist markets such as corners and goal methods, it's slightly disappointing. However, bettors who wish to keep things simple and hone in on the key markets will be delighted will not be fazed by this limited range.
Match margins tend to be set at around 2%, which is superb and this is ideal for those who are betting with big money.
Customer Support
Pinnacle have customer support options listed on their websites but their range is restricted compared to some of their peers.
They do have a number of different languages available and this is extremely handy. They have a … Read more about it
Betting In-Play
Pinnacle offers a solid in-play selection for their customers to enjoy. Basketball and Soccer are particularly prominent in this section with a number of matches priced up on a daily basis. Whether it's a club friendly or the Premier League, there are usually odds and lines available once the game has got underway.
E-sports is another in-play option which has become extremely popular with Pinnacle customers.
All of the usual markets available including 1X2, Handicap markets and Totals.
Special Features
Pinnacle offer additional extras such as articles detailing how to bet on each sport.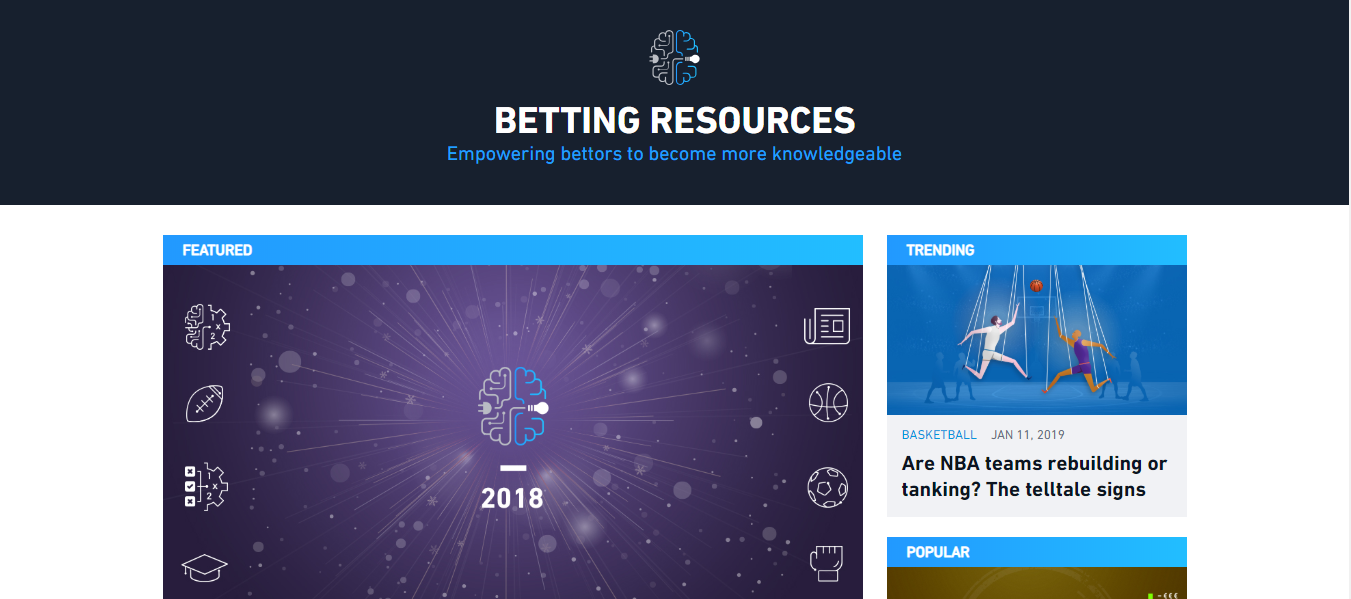 There are numerous articles available on the Betting Resources page with topical analysis as well as betting techniques. These make excellent reading material and it further emphasises that Pinnacle's customers are betting enthusiasts who prioritise winning and finding value above anything else.
Conclusion
Pinnacle is the ideal sportsbook for those who take betting seriously. The lines and handicap markets offer terrific value for the customers and that is the main incentive to join.
They don't offer gimmicky sports bonuses and this is extremely admirable.
However, Pinnacle could do with upgrading their customer service and offering a live chat function for those who have a query which requires an instant solution and the addition of live-streaming would be welcomed by many customers.
Their in-play offering is comprehensive and they are constantly looking to add new markets and sports which is great news for existing Pinnacle customers.
New users who enjoy wagering on sports will enjoy Pinnacle's straightforward approach and if you want to take advantage of the extra value on offer, it's definitely worth signing up for an account with this premium online sportsbook.