There are numerous sports available for bettors to explore and the complete range is usually listed down the left hand side of the NordicBet home page.
Sports Betting and Odds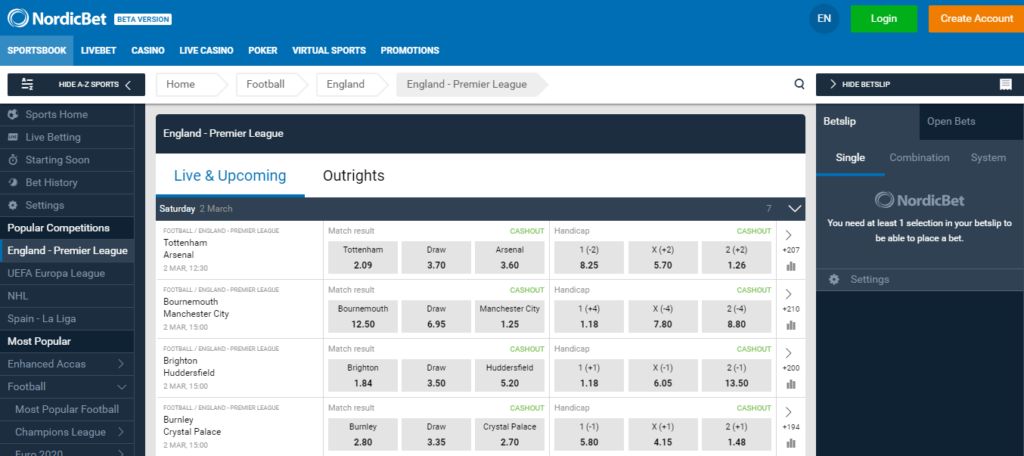 In the past, they always prioritised Scandinavian sports such as Ice Hockey, Skiing and Bandy, but they've branched out and now offer a wide range of options.
Soccer ranks highly with their customers and there are a large number of leagues and competitions priced up days in advance. There is comprehensive coverage of many European leagues with all top flights featuring prominently at Nordic Bet.
The NHL is another staple of their sportsbook, and they are particularly keen to promote this during the end-of-season play-offs.
Unfortunately, horse racing bettors will be disappointed with their lack of coverage, but they more than make up for it in other areas.
Other sports offered include American Football, Pesapallo, Rugby, Aussie Rules and MotoGP. They also offer a number of TV/Reality markets for shows which are popular in the UK and USA. Political markets are also occasionally priced up.
Clicking on an individual match will bring up the latest prices and this will sit beside the remainder of the matches on the console, which is extremely handy for comparing prices. It's an extra little touch which makes the whole betting process significantly easier.
Nordic Betalso offer enhanced accumulators which enable players to keep across several different fixtures whilst taking advantage of these boosted prices.
Overall, there is a good depth of sports available and an impressive range of markets within. Sports fans will not be disappointed by the breadth of betting opportunities available although the lack of second tier action leaves them lagging behind some of their rivals.
Read here Full Review of NordicBet Online Sportbook