Nordic Bet are an astute operator who understand their customer base. They offer a range of different sports and betting opportunities for their players to enjoy.
NordicBet Review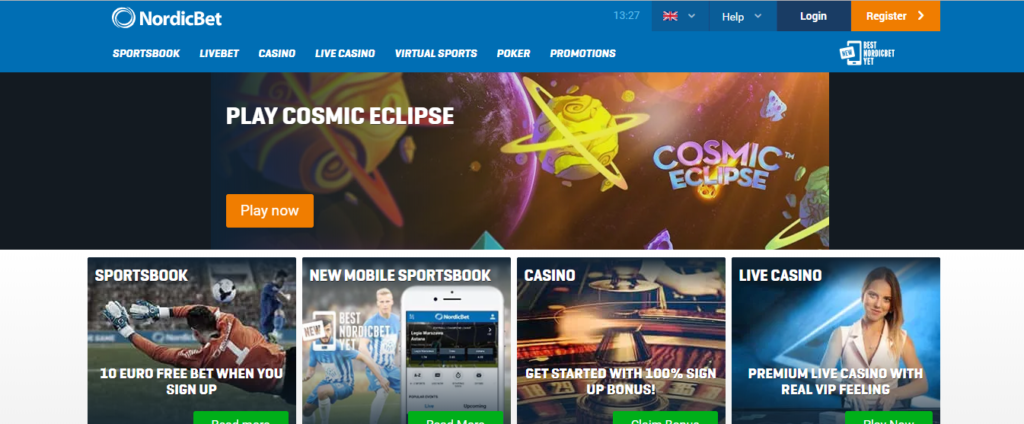 Nordic Bet ( Website Link ) was founded in 2002 and originally operated as part of the Nordic Gaming Group. As well as offering a comprehensive sportsbooks, they also host an online casino and poker service. Players will have the option to specify which area of the website they'd like to visit when accessing the Nordic Bet website for the first time.
Despite being based in Scandinavia, they hold a gaming license in Malta and this has allowed them to become one of the biggest operators across Northern Europe. They specialise in sports which are popular in Finland, Sweden, Iceland and Denmark. Although their product is aimed at bettors in Scandinavian countries, they welcome customers from all over Europe.
Despite being purchased by the Betsson Gaming Group in 2013, they've been able to keep their original features, many of which helped them become one of the leading pioneers in the Scandinavian betting industry.
They've recently begun the process of becoming more of a global brand, and the additional of copious soccer markets has helped them attract a wider audience.
They have an extremely user-friendly interface which allows their customers to navigate between markets easily, and this is a very pleasing aspect of their site. There is a pleasing simplicity about their sportsbook, and it won't take new players long to get to grips with the layout.
Nordic Bet have been long-term sponsors of the Swedish and Danish Hockey Leagues, and they have also expanded their horizons by teaming up with a number of European teams and divisions in recent years.
One of the criticisms of Nordic Bet is that they are restricted in a number of countries, but their license specifically tailors their product to Northern Europe, and although they naturally reach out to a smaller audience, this has helped them concentrate on catering for bettors in these regions. They do have plans to stretch further afield, however they are ideal for Scandinavian sports fans.
Welcome Bonus and Promotions
As their website explains, new customers may demand a free bid of 10 euros when registering an account. This is a great way to help players get started  … read more about Bonus and Promotions.
Signing Up for an Account
The registration process is faster than simple, and should not take more than 5-6 minutes. Players will askes to create a password … read more about Signing Up.
Making a Deposit
In order to keep up with many of its competitors, Nordic Bet made sure that a wide range of currencies and payment methods were offered for the deposit. It helps keep your customers … read more about Making a Deposit.
Sports Betting and Odds
The full list is usually listed on the left side of the main page. In the past, they have always favored the Scandinavian sport in a way that … read more about Sports Betting and Odds.
Customer Support
NordicBet have customer support options listed on their websites but their range is restricted compared to some of their peers.
With an increased number of customers signing up to Nordic Bet , they have … read more about Customer Support
Betting In Play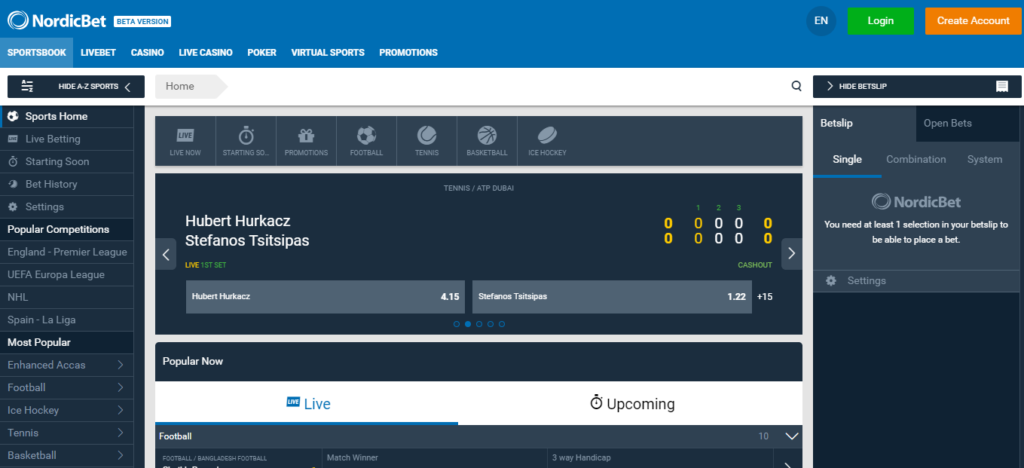 The layout of their live betting section is extremely easy-on-the-eye and users can easily locate this area of the site by clicking on 'Live Betting' on the left hand side of the home page.
They offer numerous different sports including Soccer, Ice Hockey, Tennis, Basketball and Darts.
The live markets are accompanied by live stats which make it significantly easier to follow a game, even if it's already underway.
There is also live streaming available on many of their events and customers are able to access these pictures by heading to the live betting section of the website. Not every event is available for streaming, but the large majority of tennis tournaments and minor soccer leagues are free to enjoy and live pictures of NBA games can also be accessed. Live streaming is a huge pull for many customers, allowing them to follow the progress of their bets throughout the entire game.
Prices do tend to change quickly, but Nordic Bet make it easy to place bets and add selections to the bet slip.
The ability to switch between live event and combi view is another tick in the box for Nordic Bet. This allows players to keep across multiple events at the same time.
The 'Starting Soon' section of the live betting page will allow punters to find which events are going live and allows them to plan ahead.
Conclusion
NordicBet welcome bonus may be usurped by other operators, but it is the ideal way to get started. This can be used on any of their superb range of markets and competitions.
They have gone out of their way to improve their customer service offering, and they have a number of extremely helpful and knowledgeable operators, who are always helpful and attentive.
Their live betting section is extremely well laid out and they've take time to think about their audience's needs. The addition of live streaming is a hugely welcome one, and they continue to deliver a polished product for their dedicated and loyal fan base.
Nordic Bet is a superb site which allows users to wager on their favourite sports. They could improve their range of competitions and leagues, as well as expand their horizons. However, for Northern Europe, they cater perfectly for their audience and are undoubtedly one of the best online Scandinavian bookmakers.