Basketball Betting: how to bet on the NBA
When we talked about various sports betting markets in our past articles, we talked about Totals Market, and how that market can be profitable in the long run. Back then we covered Totals Market in football and didn't talk much about other sports, like basketball.
NBA Total Betting Guide
Totals Market is often overlooked by recreational bettors as they prefer to be on a winner of the game, or on the spread, but those bettors don't know how profitable betting on Totals might be. Betting on Total Market in basketball is a bit different than betting on goals in football. The main difference is that in football you will always have a starting Over 2.5 goals line, while in basketball total points line can go from 130 to 240 points (sometimes even more).
So using the basic research to determine the possible number of points in the basketball game isn't such a good idea, and that strategy might cost you a significant amount of money.
Basic rules about Total Market in Basketball
Betting on Totals Market is also known as Over/Under betting, as you predict the number of points that will both teams score combined in the specific basketball game.
Example:
In the NBA game between Orlando Magic and Washington Wizards, the total line is set at 218 points with 1.94 odds offered by the sportsbook.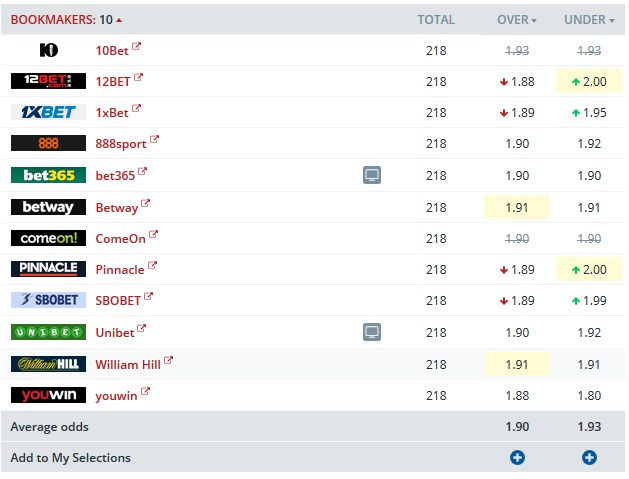 Sportsbooks set the line, and bettors have two choices, to back "Under" (combined score will be lower than offered) or to back "Over" (combined score will be higher than offered by the sportsbook). So if the game ends with 217 points or less, bettors that selected Under will win the bet and if the game ends with 219 points or more the bettors that selected Over bet will win the money.
Specific thing about this market is that odds and lines move rather fast and sometimes line move by several points up or down, before the start of the game. Those odds and line fluctuations are the perfect opportunities for bettors to make a profit in this betting market.
NBA Total – Betting Strategy
We will now talk about NBA betting markets and explain why we think that the Totals Market is the best possible market for bettors to make a long term profit betting on NBA.
Many bettors tend to bet on the Money Line and Spread Markets, and in most cases they end up with empty pockets. Why? To be successful in those two markets, you would need to have excellent inside source information, and that is almost impossible in the league like NBA. There are too many teams, and those teams play games almost every day, and gathering information from such a large number of teams that have such a tight schedule is simply impossible.
Nobody can know how the best player feels today, and how the team reacted after the last night game, so the surprises and strange results happen all the time. That's why betting on the money line and spread can be tricky. Often you will see one team leading with 10 points difference or more, and then the coach will give the chance to reserve players. In those situations, your spread is in danger as reserve players often don't perform as solid as starters.
That's why the Totals Market is the best possible market to explore in NBA league betting.
The first and most important thing about NBA Total Market betting is to react quickly and to catch the early lines. We already talked about how the odds and line move fast, and if you manage to catch the early lines you will have a nice advantage, and your chances for profit will be higher.
Also, there are additional total markets so you can place your bets on quarter total and half time total, where often you can find some value lines.
How to find the perfect game?
We personally look for several statistical parameters when we are looking at the daily offer at sportsbooks. In the past several seasons, NBA games tend to be faster and many teams play gun'n'gun basketball, so the Over is a better option than the Under.
Because of that we always look for the teams that tend to concede a lot of points. Other important factors that must be taken into consideration before placing the bet are past results against the same opponent, injury situation in both teams, and how many games both teams played in the last couple of days.
If the team has injury problems and short rotation that usually means that their defense will suffer. Also, if they played a lot of games in the past ten days, it is good to place the Over bet, as the fatigue factor will influence defensive effort by the team.
Last, but not the last thing you should check is the odds movement. As soon as odds go out, smart money will move the odds (sometimes the lines) in one direction. That early indicator often is the best indicator of how the game will end. If you see that odds on Over are going down, make sure you jump on that train.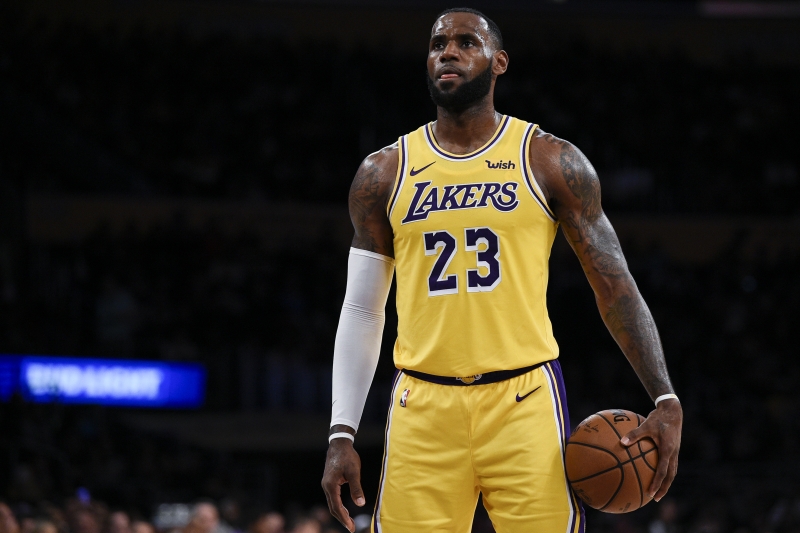 NOTICE: Don't forget that most sportsbooks have "Over-time included" rule, so betting on Over is a better choice if the game goes to the Overtime. Also, in playoffs teams play much harder defense and then strategy changes, as the Under bets are a better option.
Conclusion
In the past two seasons, we managed to make a significant profit betting on NBA totals market. We use respectable sportsbooks that offer a low margin on Totals Market (like Pinnacle), and we are selective, but almost every day you will be able to find at least one interesting NBA game to bet on.
As always, remember that sports betting is a marathon, and don't expect to make a fortune in a short period of time. Discipline and proper money management are the most important things in sports betting.