One of the main advantages of sports betting is the fact that you can be in various sports, besides football. Many profitable bettors prefer to bet on tennis, basketball, baseball, and even motorsports or martial arts, and those types of bettors don't even bother to look at football games.
Live Betting Basketball Strategy
One of those sports that can bring you significant profit and often fly under the radar of sportsbooks is the basketball. Some players prefer to bet on NBA basketball, as you have a lot of games every day, and there is a lot of action, but in this article, we will talk about betting on other basketball leagues.
Also, in this article, we will focus on one interesting and profitable live bet strategy that we implement in basketball games. To be profitable with this betting strategy, you will need to do a bit of research and to think fast when the games start.
Basic Research and Strategy
The idea around this strategy is to bet on in-play Over/Under Market. Over/Under Market in the basketball is similar to the same market in the football, with one main difference. In football, you always have the same line, Over 2.5 Goals, while in the basketball you will see a lot of different lines in the pre-game market. Depending on the average points scored and conceded during the season, sportsbooks create the starting line on the Over/Under Market in the basketball games.
That's why it is important to do research about a number of points in certain leagues and to create the shortlist of teams and their playing styles. There are several free websites on the internet that provide to the people this kind of information's, so lurk around the web and find those websites, as they will be very helpful to you.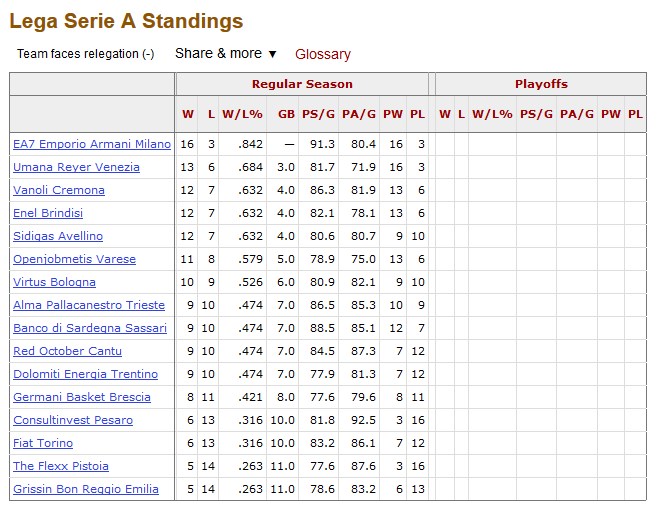 In this picture, you may see current stats for the teams in Italian Lega A, one of the leagues where you have diverse teams regarding the Over/Under statistics. In general Italian Lega A is considered as one of the high scoring leagues, but there are several teams that prefer to play a slower tempo, and many games finish in Under.
On the sheet (Picture 1) we see that best teams for the Over play(in football), in general, are EA7 Emporio Armani with 171.7 points per game and Dinamo Sassari with 173.6 points per game. On the other hand, teams that prefer a slower tempo of play are Reyer Venezia with 153.6 points per game and Varese with 153.9 points per game.
With this information you should put all of those four teams into your shortlist, EA7 Emporio Armani and Dinamo Sassari on your Over list, and Reyer Venezia and Varese on your Under list. Now you are ready to start betting live on the games from Italian Lega A.
Betting Strategy
Live Betting on basketball games is fast-paced discipline, and it is quite different from pre-game betting. In our past articles, we talked about Betting on NBA totals, and we suggest you read that article in order to be more informed about basketball betting in general.
This basketball betting strategy is based on team performance in the first quarter or in the first half. For the Over teams in Italian Lega A, pre-game lines are usually in the region from 165 points to 173 points, while for the Under teams pre/game lines are in the region from 153 points to 157 points.
Example:
In the game between Cantu and EA7 Emporio Armani, the line was set at 173 points in the pre-game market. When the game started after the first half, the result was 18-18 (36 points in total), and after the first half, the result was 36-44 (80 points in total).
The line after the first quarter was down to 160 points and the line at the end of the first half was 165. As you may see in both cases the line was significantly lower than in the pre-game market, and both teams are fast-paced, and their average is way over that line.
Using our strategy, you need to wait for fast-paced teams to underperform in the first quarter or in the first half and then to take the Over bet on the lower line. In our example, the game ended 74-101 (175 points in total) and your bet would be won easily.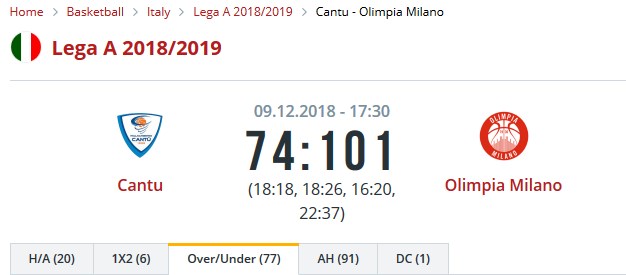 NOTICE: Don't forget that most sportsbooks have "Over-time included" rule, so when you play on Over in-play you have a better chance to win your bet.
The same strategy can be implemented to play the Under bet if the slow tempo team scores a lot of points in the first quarter or in the first half.
Conclusion
We used this in-play betting strategy for two seasons in European basketball with some incredible results. You will always get the excellent odds in the region from 1.83 to 1.90, and if you choose your games correctly, you can expect a win ration in the region of 65%.
Of course, you need to be selective and not to rush with your bets. Also, we suggest you try out this strategy with lower stakes firstly and then adjust your staking plan accordingly.