Interesting statistical percent is behind this sports betting strategy. Looking at the football results in the past decade, it is proven that around 10% of all games finish goalless. Of course, there are leagues that produce more goals and there goalless games are rare, but in certain leagues low scoring games and normal so the percent of games that finish without any goals can go up to 15% per season.

 Recommended Licensed Bookmakers: BetSafe, BetHard, Pinnacle, Betway
Lay 0-0 Football Strategy
With this betting strategy, it is important to do proper research and to choose the leagues that produce a substantial number of goals, in order to make a profit from sports betting. And this betting strategy is suited only for football games.
It is wise to have registered account at any Betting Exchange, so you can lay the correct score.
Finding the best leagues
Like in any other sports betting strategy, research is crucial. You need to find the suitable leagues that produce a solid number of goals, and to skip the leagues that are not "goal happy" leagues, like Greece, Montenegro, Albania, etc.
It is essential to make a list of leagues that are not good for goal market betting, as you will need to react quickly when you start betting with this strategy. Mostly, you will make a "blacklist" of leagues that are not suitable for goals overall.
After you made your blacklist, you will try to avoid those leagues, and to bet on leagues that are not on the list.
Laying the 0-0 Correct Score
Now there are two possible scenarios that you can do.
Firstly, you can LAY the correct score 0-0 pre-game, or bet Over 0.5 goals. Those two bets are the same, with first option there is a significant bet liability, and with second bet odds are really low. In both cases, profit is really low but should be constant.
The second option that you can use, and which option is more lucrative is to lurk the market, and research the games that already started and that didn't produce any goals in the first half. Often we see big teams have problems scoring in the first half against smaller teams, and then in the second half, they managed to win by one goal or more.
With second strategy you will get the better odds, but the risk of losing bet is higher.
The perfect scenario is to wait until there are 20 minutes left in the game and then to LAY 0-0 correct score. In that situation, you will get 2.00 odds or higher.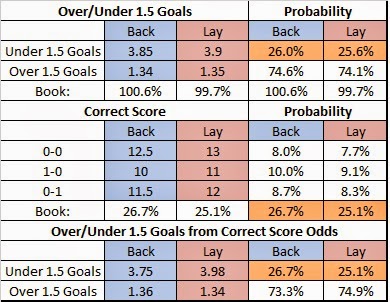 We personally prefer to LAY the 0-0 correct score in the last 20 minutes, but any of these three strategies can make you a nice profit in the long term.

Recommended Licensed Sportsbooks: BetSafe, BetHard, Pinnacle, Betway
Conclusion
Despite the fact that this strategy isn't widely popular, it can be a really interesting strategy in your betting portfolio. (see other Betting Strategiues here) It is important to find the betting strategy that will suit your character the best and that way you will be able to make a constant profit from sports betting