We already talked several times about interesting system strategies, and every time we point out the fact that with the right system that fit your need, you can do wonders in sports betting. Of course, it is always safer to play only single selections, as it is proven fact that single selection strategy is better due several facts (less risk on your betting bank, higher volatility, etc.) but a good betting system can do wonders in some cases and with a low stake and good bank management.
Half Time / Full Time Betting System

 Recommended Licensed Sportsbooks: BetSafe, BetHard, Pinnacle, Betway
If you are not a complete beginner in the sports betting industry, you probably know that except plain combo bets (double, triple, acca) you can play system combo bets. Basically, you choose several different selections and then decide how many bets you need to hit in order to have a winning slip.
Example:
Arsenal to win (1.28)
Newcastle to win (13.00)
Chelsea to win (1.60)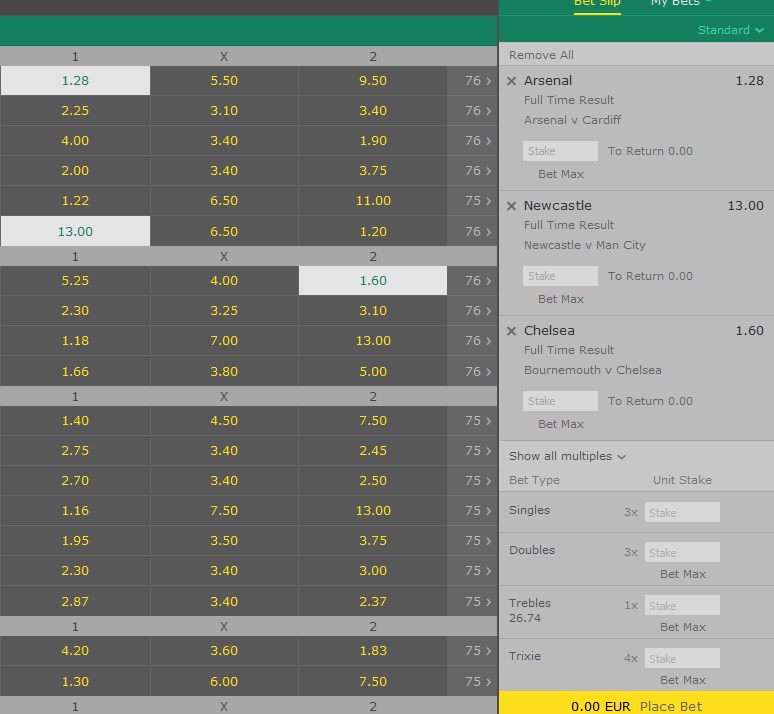 In this example, we made three different selections, and a system with three selections is the most basic system that you may play. Then at your bookmaker, you simply choose the option "SHOW MULTIPLES" (or something similar), and then you will get the option to place the bets you want. Basically, in this case, you play three doubles and one treble, four bets in total (see in picture 1).
With system betting you don't need to place bets only on 1×2 market, you can mix all the possible markets and different sports as well.
Half Time – Full Time system Bet Explanation
Now when we explained how the basic system bet works, it is time to speak about this particular system, called Half Time – Full Time System.
In this system bet you place 15 different bets in one system. You will place four single bets, six double bets, four treble bets, and one 4-fold bet.
For this particular system we prefer to bet on high odds markets, and half time – full time market is full of those lovely high odds. I prefer to find four games where there is no heavy favorite and where I think that draw is the most probable outcome of the game.
Once when you found the best possible games that you like, it is time to place half time – full time bet. The idea is to select games where you think home (or away side) will lead after the first half, but that the game will end in a draw (1-X or 2-X). Odds on that outcome are in the range from 13.00 to 15.00 usually at most bookmakers.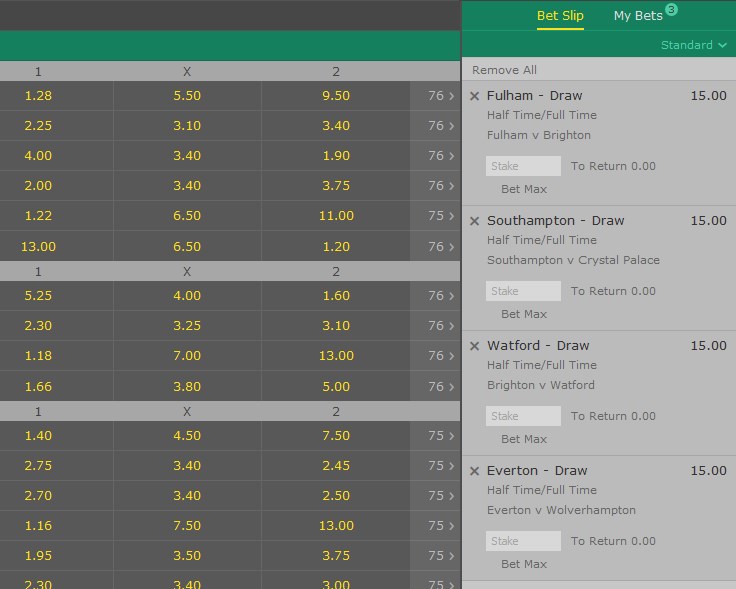 Now you will need to make your stake, and we advise you to stake low, as this betting strategy is a risky one. For example, stake one Euro per bet, in total your stake will be 15 Euro.
If you managed to predict correctly one outcome, you would get your money back. If you manage to predict accurately two games, you will get around 75 Euro of pure profit. Three correct selections or even four will make you astronomical profit, but to be honest, it is highly unlikely to hit all four games often.

 Recommended Licensed Sportsbooks: BetSafe, BetHard, Pinnacle, Betway
Conclusion
As we already said, this sports betting strategy is for those who like to stake low and to get massive amounts of profit. But as any sports betting strategy that you will find, this one also has downsides. It can be pretty hard to lose frequently, and sometimes bettors lose the faith.
As always, we advise you to bet with the money you can afford to lose and to be disciplined. Sports betting is one hard discipline, and nobody made a fortune in a short period of time.