We already wrote about several popular betting strategies, like double chance strategy and fading the favorites with Asian Handicap, and today we will write about one not so popular, but nevertheless pretty effective sports betting strategy. This betting strategy is all about fading the favorites in Cup competitions.
Fading the Favorites in Cup Competitions Betting Strategy
Cup competitions in many countries are not such popular and attractive competitions for "big" teams, and often due the congestion in schedule managers tend to play those games with mixed teams, against lower league teams. Except for mixed team, there is always a question of motivation for big favorites, as Cup competitions are not primary competitions for those big teams. They always tend to play more motivated in League games, or in Euro competition games. Winner of the Cup competition usually gets their place in Europa League competition, and most of the big teams shoot for more, UEFA Champions League spot. How the passes for the European competitions are given, you can read on most of the League official pages.
This betting strategy is made for football competitions in big football leagues, so-called Top 5 Leagues (Premier League, Bundesliga, La Liga, France Liga 1, Serie A, etc.)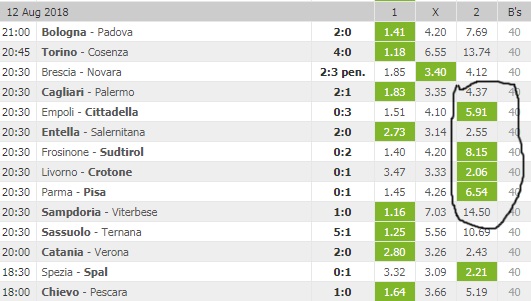 Research is important
As you may see on the picture above this season in Coppa Italia, there were several unexpected results in the second round, when most of the "big" clubs from the first league start playing. This is a common thing in most of the Cup competitions in all big leagues in Europe, as those first league teams don't prioritize those Cup competitions and often they send second or third tier players to play those games.
So it is essential to find the right games in order to find the value in those odds that bookies offer to you. The best thing is to choose the games where first league teams play with lower league teams, but it is also important not to choose the most prominent teams to fade, like Manchester City, Bayern Munich or Juventus. Those teams have deep rosters and a lot of really quality players, so their reserve players are far better than those regular players from low tier teams. It is best to choose teams that play both Euro competition and domestic competition, and they are not very rich and big, like Lille, Hoffenheim, Atalanta, or Burnley.
Those teams need to rest their players, and they don't have so many quality players that can cover their first team regulars, and the chance for surprise is far bigger in those games.
Once when you made a short list of teams that you think are worth fading in cup competitions, wait for the right odds and don't be afraid to place your bets with some really big odds, as those odds can bring you the most significant profit of your sports betting life.
Waiting for a Profit to Happen
After you found the suitable bets, place all the bets with the same stake and wait for the results. This is low volatility strategy so you will see a lot of losing bets and just a few winners, but those winners will get you the really nice profit overall.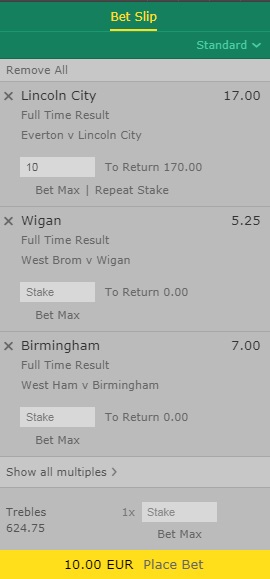 This is a long-term strategy that showed a lot of success in the past few seasons. If you pick the teams to follow wisely, you will be able to earn a nice profit from underdog betting. Sportsbooks hate to see smart punters that play with their head and not with their heart, and this betting strategy is one of the best strategies that smart punters use.