Dutching Calculator in Football Games
Here is one exciting sports betting strategy that isn't such a popular one, but nevertheless it can bring you a significant profit if you use it in the right way. In one of the previous articles, we talked about Matched Betting, Arbitrage Betting, and strategies that can be used when you decide to bet in that way.
Dutching Betting System
Each Way Dutching is the primarily betting strategy invented for horse racing, but it can be used in other sports with some excellent results. The main philosophy around Each Way Dutching is to place several different bets with different stakes, but the most important thing is to calculate your liability correctly, so at the end of the race, you can finish with a nice profit.
What do you need?
Dutching is an advanced sports betting strategy and to be able to implement this strategy correctly you will need some tools. A most important tool that you will need is the Dutching Calculator. That is the software that calculates your stake so you can make the profit in any case. On the internet you can find a large number of Dutching calculators, some are free and some are paid, but we suggest you choose the free version, as there is no need to pay for such things. Free software will do the job for you.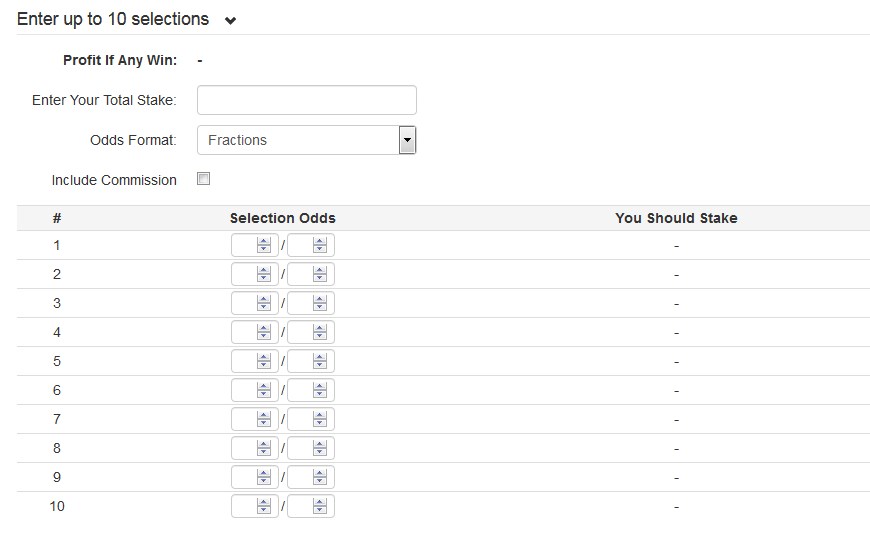 After you find the right software, the next step is to find the right game and to understand the process of this sports betting strategy.
How does this strategy work?
For this Dutching strategy, the best possible games are the game where heavy favorites play at home. For every particular game you will place three different bets.
Bet 1 – correct score 0-0, and the odds should be around 13.00
Bet 2 – correct score 1-0, favorite to win and the odds should be around 7.50
Bet 3 – over 1.5 goals in the game, and the odds should be around 1.50 for this market
When you placed those three bets the only possible way to lose is when underdog manages to beat the favorite with 1-0 result.  In any other situation, you will manage to win some money and to make a profit.
We will show that an example:
In the game between Arsenal and Cardiff, the home team is a heavy favorite, and the bookies offer low odds on the home win (around 1.25). The odds on 0-0 correct score are 19.00, the odds on 1-0 correct score are 9.00, and the odds on Over 1.5 goals are 1.30. As you see sportsbooks offer a slightly lower odds on goals market, but much higher odds on correct score market.
Now you should enter the odds in Dutching calculator and calculate your liability on each bet. With 100 Euro stake, the calculator showed how much you need to stake in every selection and how much you will win. In this particular case, you can win 7.19 Euro of pure profit on each selection.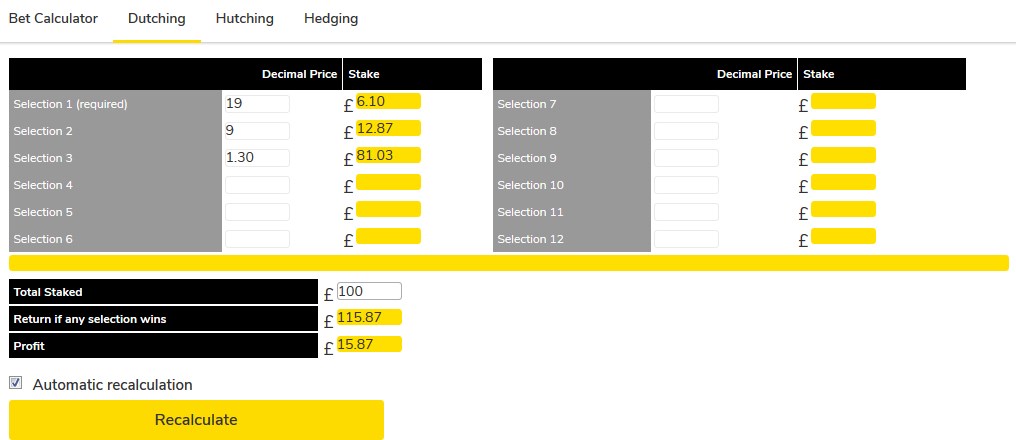 And when the game is over, and you (hopefully) managed to win some money it is time for the second turn. This time you will calculate your potential win, not with 100 Euro, but with 107.19 Euro. After several turns, you will see your starting stake grow massively.
Conclusion
This is one very interesting betting strategy for those who like to think "out of the box." Of course, there is a significant risk in this strategy, but the only risk is to underdog wins by 1 goal to nil, and that happens rarely. If you choose your favorites wisely, and you have a much-needed discipline, you can do wonders with this advanced sports betting strategy in the long run.
The important thing to know is to be patient and to bet with the money you can afford to lose. Sports betting can be profitable, but nobody managed to get rich in a short period of time.