In one of our previous articles, we wrote about a new option that is available at several reputable sports books called Bet Builder and Request a Bet. Many popular sports books are now offering this option to their players, and this betting discipline is getting a lot of attention in the past several months.
Bet Builder In-Play System
But only one bookmaker made a significant breakthrough by offering the Bet Builder option to the players who want to bet in-play.
Worldwide popular and respected sportsbook, Bet365 launched this option a few months ago and made a historic move in the online sports betting industry. Unlike other sportsbooks that offer a request a bet (RAB) option, with Bet Builder feature you are in complete control of your bet.
In-Play Betting Strategy for Bet Builder
Today we will talk about two interesting Bet Builder strategies that can make you some really nice profit if you properly implement them.
First betting strategy is a low-risk strategy, and it is not very difficult to understand. You need to find the game where both teams are playing an open game and where the result is 0-0 after the first 45 minutes. When you find that type of the game, then use the Bet Builder option and place two selections:
Over 0.5 Goals in the game and
Over corners in the game (see how many corners both teams had in the first half and divide that number with two). In our example, in picture 1 we took Over 9 corners in the game.
You will get the odds in the region from 1.70 to 1.90 for the outcome that is highly possible.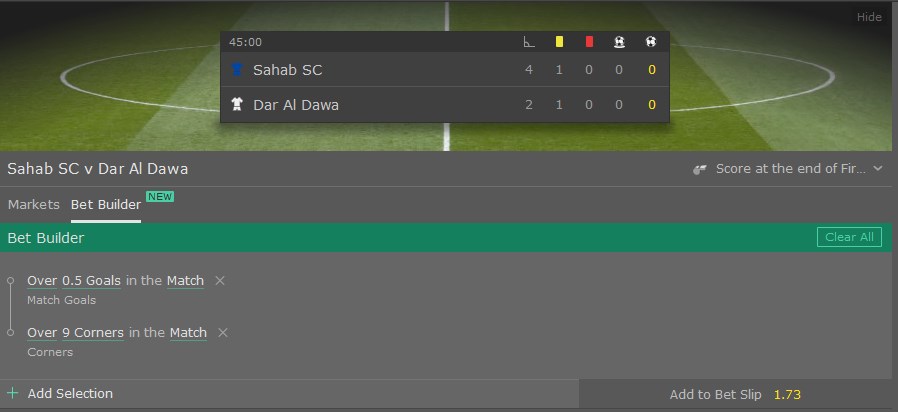 The second strategy is a highly volatile strategy with high odds, but during the testing period, this strategy made us a significant profit.
We prefer to play this strategy in popular leagues, like Premier League, Italian Serie A, and in Champions League. In the first 15-20 minutes of the game see how many fouls team made and did the referee gave some yellow cards.
If you see that both teams are making fouls and there are no yellow (or red) cards in the first 20 minutes of the game, then you have a perfect opportunity to make your bet.
For this strategy, it is important to know a bit about teams and players. For example, you should know that Arsenal defensive midfielder Xhaka gets a lot of yellow cards, or that Fulham forward Mitrovic often gets in trouble with the referees, or that some player love to take a dive and might get in trouble for that.
With that knowledge, it is time to mix players to get a yellow card.

There is no rule what players you should choose together, but we like to mix one defender and one forward, one defender and one wide player or combination of one defensive and one offensive midfielder. Again, you should make your own combinations, and remember to keep your stakes low, as this is one highly volatile strategy that will give you some nice profit, but you will not see many winners as you might think.
Conclusion
Using Bet Builder in-play feature is a really interesting thing. No doubt Bet365 made a historical move with this feature and they changed sports betting forever. It is easy to use, fun and we have no doubts that you will enjoy live betting experience using this Bet Builder feature.
Just remember to be disciplined and never bet more than you can afford to lose. Betting can be addictive.